Testimonials
Your stories are the true testament to the value of Pharm-Aloe in your feed room.
Here are a few of our favorites!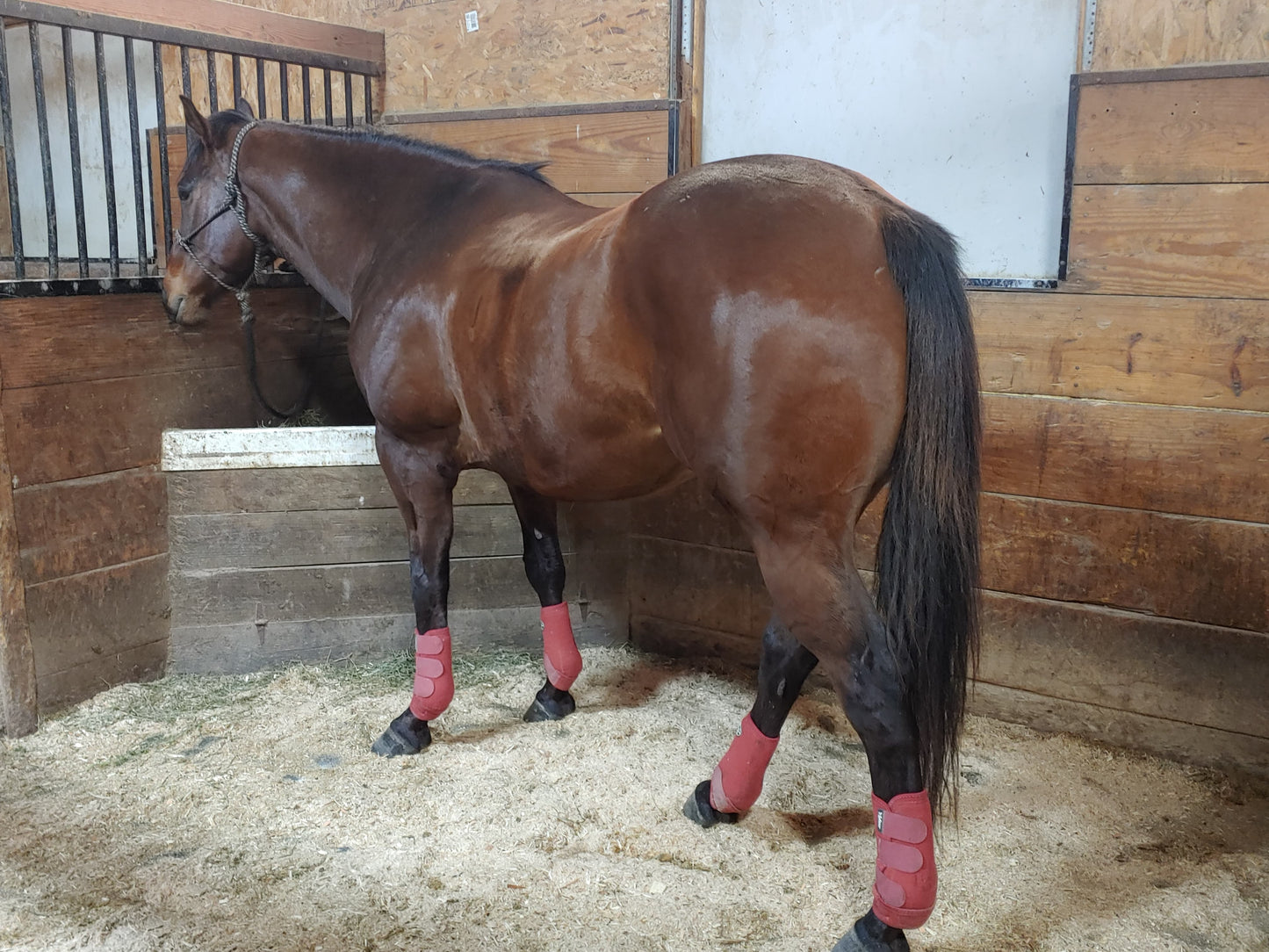 "Hello! I have used your Aloe Vera Juice for the past couple weeks on my 4 year old OTTB. It is amazing the change already. I have spent over $100 a month on GI Supplements over the past two years and have not had results like this.
Truly works - makes my gelding very happy and comfortable!
Thank you for a great natural product!"
- David Michaletz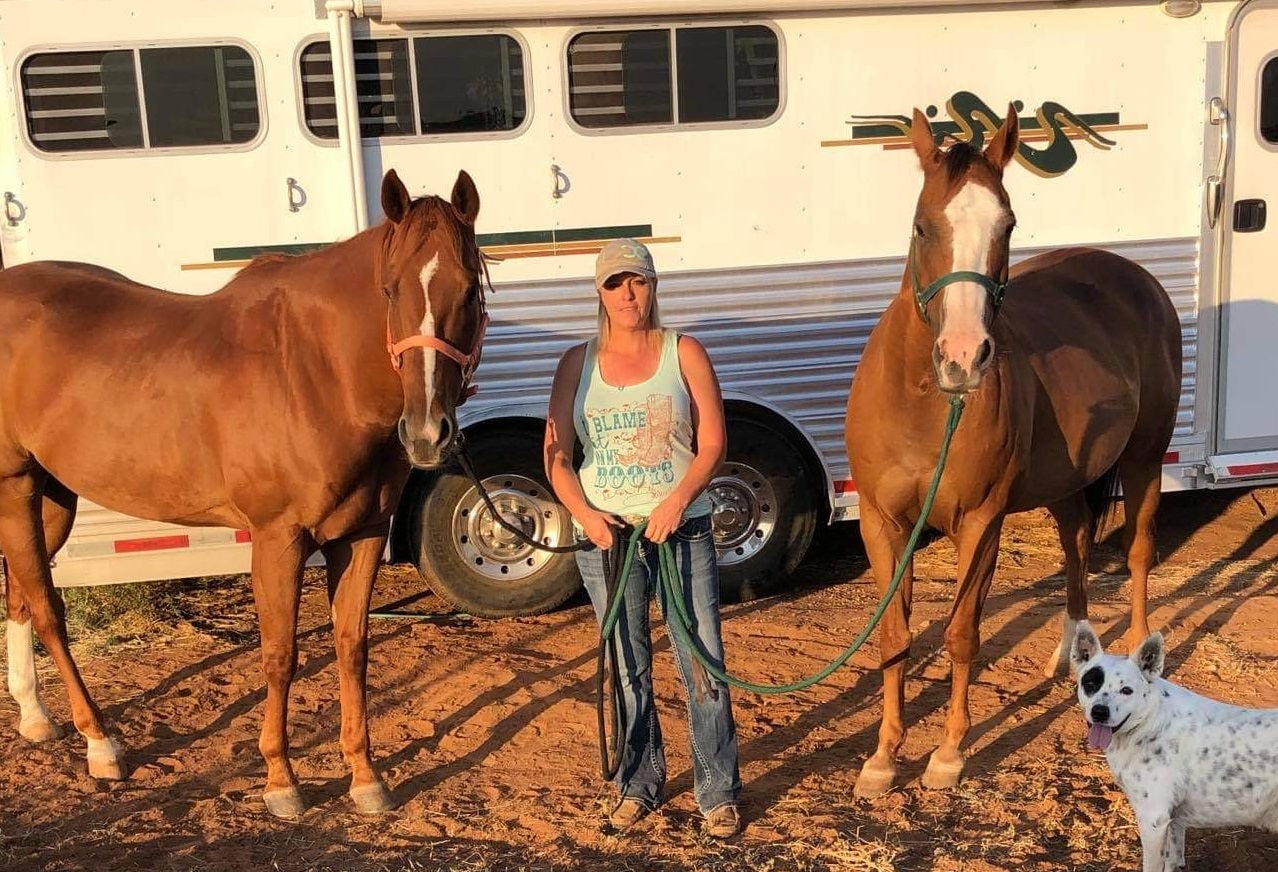 "I think I have given my horses every supplement on the market, and nothing compares to Pharm Aloe. I've taken both of my barrel horses off of everything EXCEPT for the Pharm Aloe Pellets. They are looking, feeling and competing so much better. THANK YOU PHARM ALOE EQUINE"
- Carla Cornett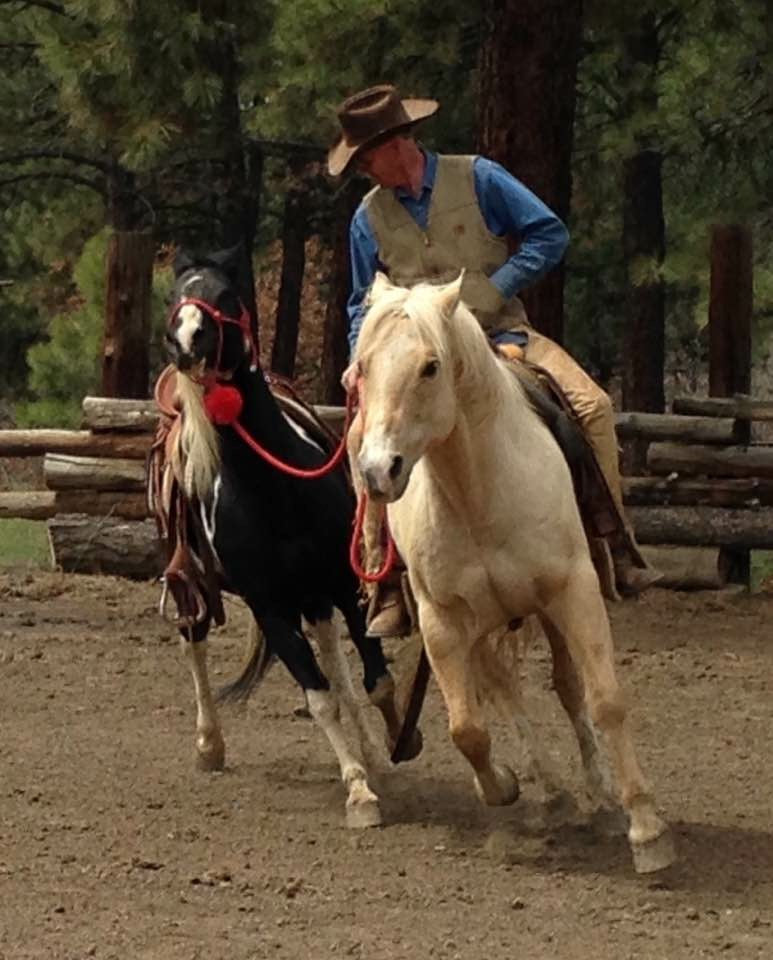 "Pharm-Aloe is my go-to supplement. 
I see a big improvement in overall health and attitude in the horses I ride."
- Dennis Brazeal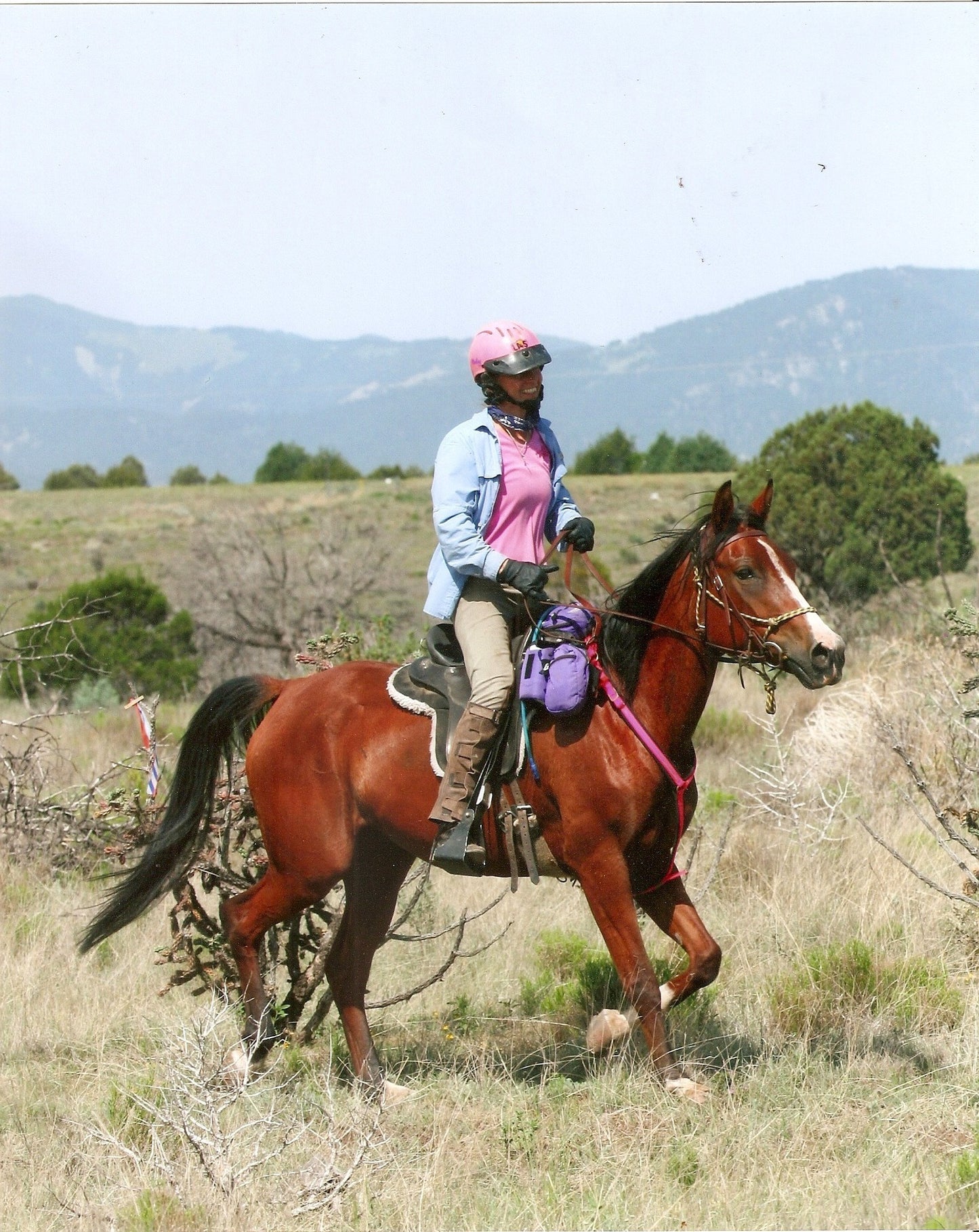 "I love the peace of mind Pharm-Aloe gives me! 
From my treasured broodmares and stallions to my trail and endurance horses, I know their digestive and immune systems are optimally supported."
- Andrea Pabel-Deane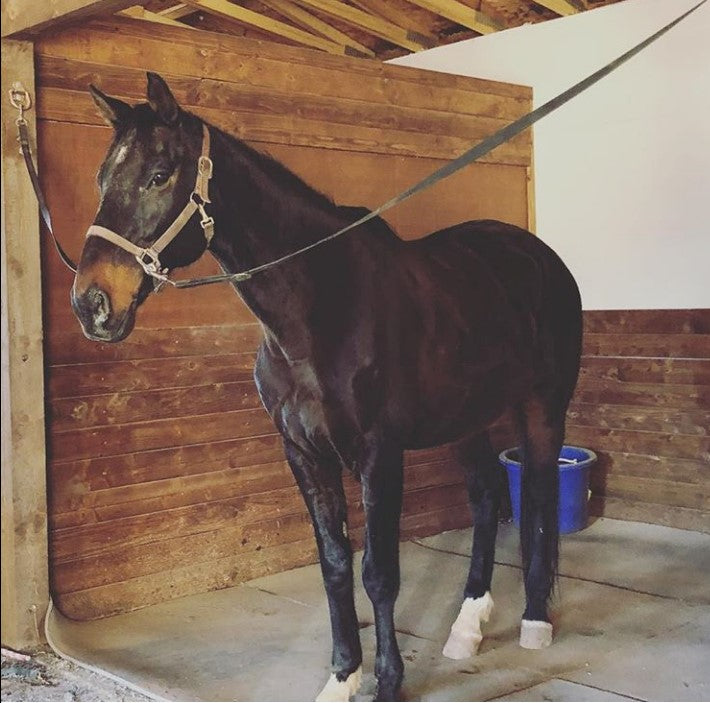 "We were looking for something to bring this 16+ hand Off the Track Thoroughbred gelding back, Alkali Skinner. When we got him he looked awful and after he was wormed he lost 200 lbs.Using Pharm-Aloe 4X CONCENTRATE helped get his topline back. He stopped the constant pacing and his coat is coming back. He is a completely different horse now. He rides better. He thinks more and is less reactive. Very impressive how fast we saw results with the Pharm-Aloe! We tried lots of different supplements but never saw the improvement like we did with the Pharm-Aloe. We've seen a huge change in him! He seems to really like the taste of aloe vera."
- Caitlan Morris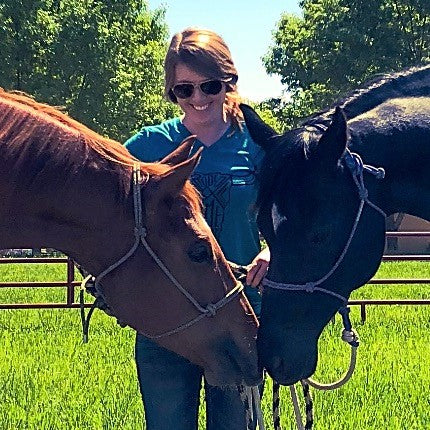 "For the last 3 years Pharm-Aloe has become a staple supplement in the feeding regimen that I have all of my horses on. I began by using it on our racehorses that were in training at the track. The high stress that most racehorses experience can often make them prone to stomach and gastrointestinal issues. Shortly after starting Pharm-Aloe, I realized that gastrointestinal issues were few and far between. My horses were maintaining a great appetite and were having less health complications in general. I believe it has helped maintain a healthy immune system and gastrointestinal function in each horse I have, both in training and out of training."
- Mariah Swallows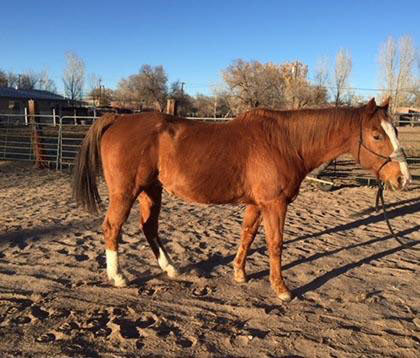 "This is Eli, a 17 year old Apendix gelding who has suffered with gastrointestinal and stomach issues for many years. He had been kept in a large dry lot paddock with 3 other geldings. On November 11, 2017 he was removed from the 3 other horses and he started receiving 3 cups of Pharm-Aloe Horse Pellets 1x per day. Eli was also provided with free-choice grass hay, plentiful well water, a Redmond Rock Salt, and kept in a large dry paddock alone but with horses he could touch over the fence. Please note the improvement on January 14th. Eli is continuing to gain weight. He doesn't pace the fence line or aggressively paw the ground any longer. His farrier for the past 8 years was very impressed with being able to pick up and trim Eli's hind feet. In the past it was an "explosive" event so the farrier often put shoes on the front feet only. After 6 months on the Pharm-Aloe Horse Pellets there was absolutely no reaction to picking up the hind feet and trimming them. Eli stood there calming licking and chewing."
- Cassidy Barber
RETAILERS OF CALIFORNIA
TOPANGA
Performance Equine Bodywork
 RETAILERS OF NEW MEXICO
ALBUQUERQUE
Bob Powell
Academy Pet Hospital
6000 ACADEMY RD NE, ALBUQUERQUE, NM 87109
Dan's Boots & Saddles
6903 4TH ST NW, LOS RANCHOS DE ALBUQUERQUE, NM 87107
Dr. Diana DeBlanc, DVM
Horseman's
8812 2ND ST NW, ALBUQUERQUE, NM 87114
AZTEC / DURANGO
Aztec Feed & Supply
216 S MAIN AVE, AZTEC, NM 87410
BELEN
Old Mill Farm & Ranch
19763 NM-314, BELEN, NM 87002
CORRALES
Meddleton Equine Clinic
6165 CORRALES RD, CORRALES, NM 87048
EDGEWOOD
Jim Morris
LAS CRUCES
Julie Bragg
LOS LUNAS
Carol Newbill
SANTA FE / LAS VEGAS
Andrea Pabel-Deane
The Critters and Me
1403 AGUA FRIA, SANTE FE, NM 87505
San Marcos Feed Store
3877 STATE RD 14, NM-14, SANTE FE, NM 87508
TAOS
Nicole Trousdale
 RETAILERS OF WISCONSIN
MADISON
Tim & Jean Blessing